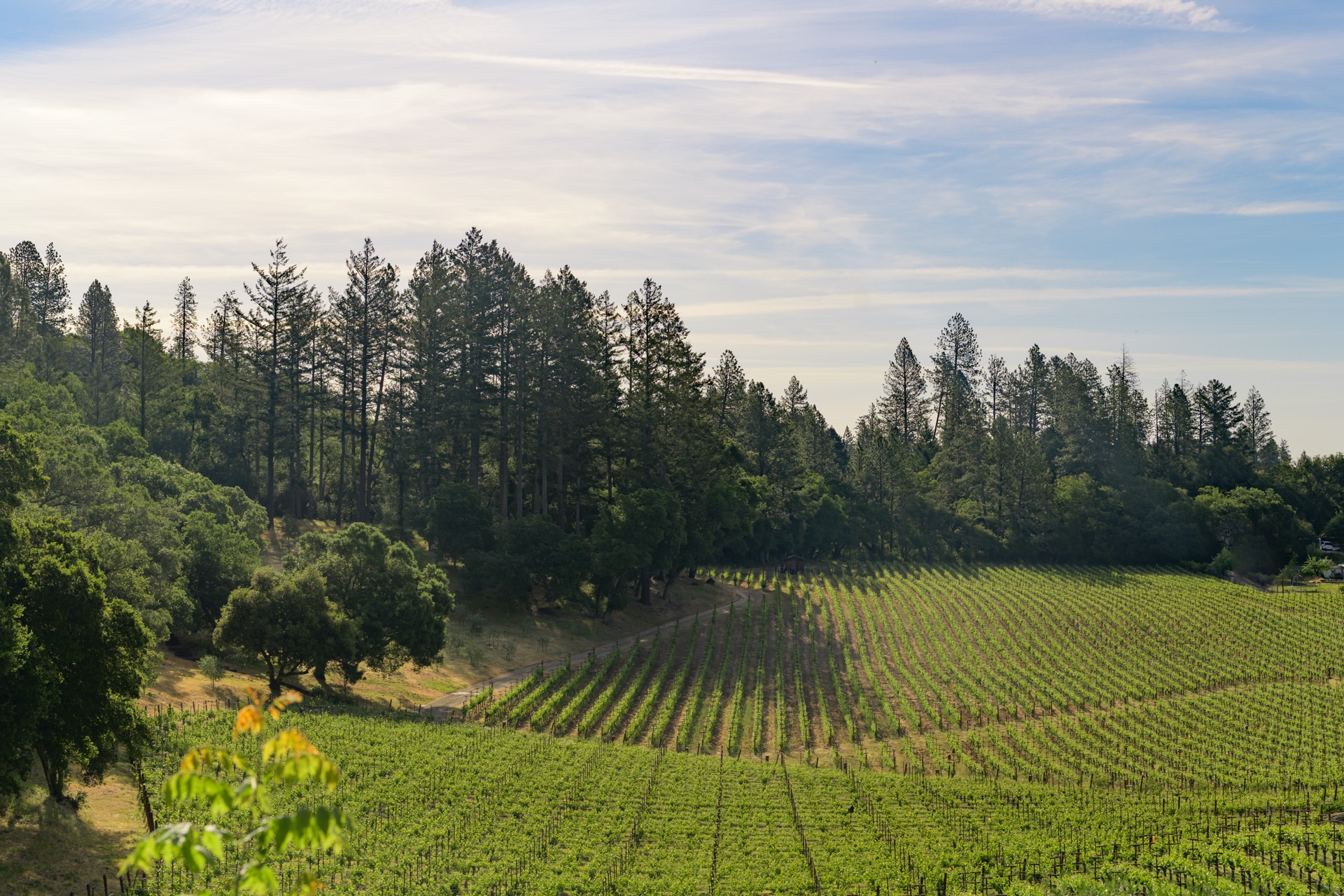 The Neal Family Howell Mountain estate is located 1,800 feet above sea level and is home to the Neal Family Winery and Tasting Room. The vineyard is certified organic by CCOF and has been organically farmed since 1994.
Mark purchased this property in 1990, and it came with an abandoned vineyard, an old red barn, and two natural hand-dug caves. He knew at once this was where he would create his family home. A few years later, he decided to add the winery.
Howell Mountain AVA is in a unique location thanks to the high elevation, cooler climate, and volcanic soil, which all contribute to elegant, rich wines. Howell Mountain is arguably one of the most prestigious appellations in Napa Valley for Cabernet Sauvignon, and it's also one of only five mountain appellations in the region. The two primary soil types are in the volcanic series; tufa (decomposed volcanic ash eggshell white in color) and red clay Aiken Soil, which inspired the color of Neal Family Vineyards' wine label.
Owing to the elevation and cooler climate, vines produce smaller grapes. As such, there is a smaller juice-to-skin ratio. Color and tannin all come from the skin, so Howell Mountain wines have a richer color and increased tannins. With the combination of the cooler climate and nutrient-deprived soil, there is higher acidity in these wines. Tannin plus acid equals the longevity of the wine. These wines will have aspects of dark fruit, but more complexity shows through herbs, spices, and woodsy character.
Certified organic by CCOF since 1994. Regenerative Organic Certified® in 2022.
AVA: Howell Mountain, Napa Valley
Elevation: 1,800 ft.
Aspect: Various (hillside bowl)
Planted Slopes: 0–45%
Soils: Aiken Loam, Boomer-Forward-Delta Complex,
Forward Gravelly Loam, Rock Outcrop-Kidd Complex
Varietals: Cabernet Sauvignon
Clones: 2, 6, 337, 341
Rootstocks: RL-99, 110-R, 1103-P
Planted Acres: 12.5
Howell Mountain is arguably one of the most prestigious Cabernet Sauvignon growing regions in Napa and the world.
Rutherford Dust Vineyards consists of our heritage vineyard on Mee Lane and a second vineyard across the road on Galleron, both located on the Napa Valley floor. Both vineyards have been organically farmed since 1966 and have been certified organic by CCOF since 1984. Mark Neal's parents purchased the property on Mee Lane in 1966, and the original vineyard included Sauvignon Vert, Napa Gamay, Carignan, and French Colombard. In 1971, they removed a four-acre walnut orchard on the property and planted Zinfandel and Petite Syrah, which continue to be farmed today. Although the varietals have evolved over time and most wines produced today are Cabernet Sauvignon, these vineyards have always been our testing ground for new ideas in farming practices and varietals.
"Rutherford Dust" is recognized as an expression of the distinctive terroir and unique sense of place where these wines are designed. The Rutherford AVA has nutrient-dense deep soil, microclimates, and longer growing seasons. This terroir results in deep, rich, and intense fruit-forward wines with structured tannins and great age-ability.
Organic since 1966 and certified organic through CCOF since 1984.
AVA: Rutherford
Elevation: 160 ft.
Aspect: Flat (valley floor)
Planted Slopes: 0–2%
Soils: Bale Loam, Bale Clay Loam, Pleasanton Loam
Varietals: Cabernet Sauvignon, Petite Syrah, Zinfandel, Sauvignon Blanc
Clones: 169, 337, 412, 685, 5197, See Hayne, Neal family clones, 1A
Rootstocks: 039-16
Planted Acres: 17.6
"It takes Rutherford dust to grow great Cabernet."