Mark Neal has been walking and working organic vineyards almost daily for over 54 years. In 1966, he started as a farmer working alongside his parents on their Napa Valley farm. His love of the land, working with family, and producing small batches of wines was instilled early by his father.
This upbringing of growing organic grapes inspired him, in 1998, to build Neal Family Vineyards, which is wholly owned, farmed, and operated by his family, a rarity in the winemaking world. Today, working beside several of his children, he handcrafts exquisite and complex Cabernet Sauvignon from his estate's biodynamic and certified organic vineyards in Howell Mountain and Rutherford.
A Love Story – One & Only
Mark's parents, Jack and Athene Neal, met on a blind date right before Jack went off to serve in the Korean war as a medic. When he returned from the war, he went directly to meet Athene in a hired limo, proposed, and the rest is history. They moved to Napa in the early 60s, creating a home, family, and business in Rutherford. They were lovebirds and coworkers their entire marriage. They always put family first and aspired daily to find a quiet moment together or a "space between the notes."
Athene, the family matriarch, was quite the spitfire and did what all the men did at the time. She farmed, fixed machinery, and didn't have any fingerprints from shelling so many walnuts working so hard. Athene's mother and aunt were the first in their family to immigrate to the US from Crete. She was beloved by many and loved to cook big Greek dinners to honor both her family and heritage.
Jack had a wicked sense of humor and was known to most as the hardest-working man in Napa Valley. In 1968, he started Jack Neal Vineyard Management after working for other nearby farmers for years. Thus began the family's deep organic farming roots in Napa Valley.
'A space between the notes.'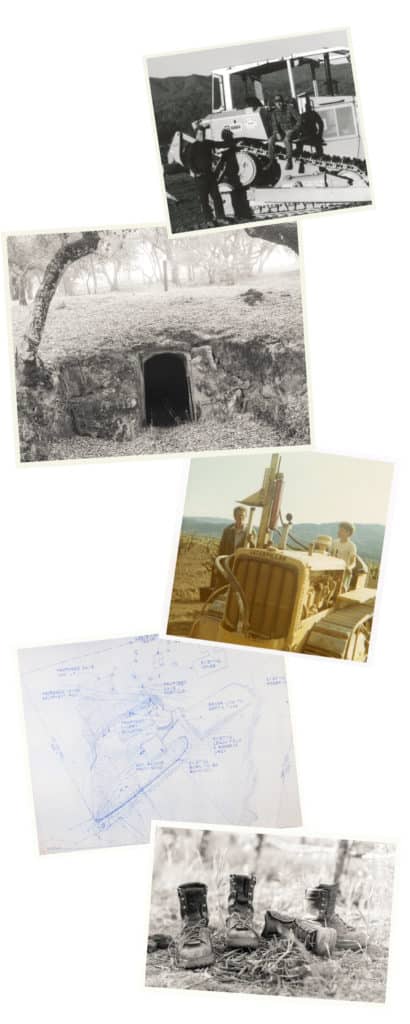 Mark was able to bring his dad's dream to life.
The Dynamic Duo - Jack & Mark
From a young age, Mark Neal was a clever and industrious boy. He learned the value of hard work and loved helping at the family's farm on Mee Lane in Rutherford. The family farm at the time had walnuts and wine grapes, and his mom had a truck farm vegetable garden. Jack enlisted young Mark to help with Jack Neal Vineyard Management, which inspired the spirited entrepreneurial boy to start driving a tractor at age 8, take out a loan to buy it from his dad at age 9, and pay it off fully by 14. Mark grew up farming during all his spare moments and became a passionate steward of the land.
He has been a pioneer in the organic farming movement and led the farming business to embrace this philosophy. Many farmers at the time were moving toward conventional farming using synthetic pesticides and fertilizers. In 1984, they certified their vineyards with CCOF. This ethos of looking after the land for the next generation will always remain foundational to the Neal family and farming. In 1994, Mark became the owner of Jack Neal & Son Vineyard Management (JNS), one of the oldest vineyard management companies in Napa County that has grown to become one of the largest service providers in Northern California. JNS farm almost exclusively organic, with over 90% percent of the acreage certified organic.
Mark and his father started making wine together when he was 14 and thus began his journey in winemaking. The garage wine they produced was for personal consumption, but this would change when Mark bought his first property in Rutherford in 1979 at 20 years old. In 1990, Mark, seeking the sun above the fog on the valley floor, purchased a property in the Howell Mountain AVA. In 1998, Mark produced his first wine, a Rutherford Cabernet Sauvignon from his first property in Rutherford, producing 360 cases. The following year, he built the Howell Mountain winery, which we see today, with a small team from Jack Neal and Son. By building the winery, Mark was able to bring his dad's dream to life.
Mark had a childhood filled with love, wine, food, and big Sunday family dinners prepared by his mother, Athene. Mark watched his parents work tirelessly to preserve the vineyards and home they loved. They instilled in Mark strong family values, a love of the land, and a relentless work ethic. Mark felt honored to work alongside his dad and considered him his best friend.
Like his parents, Mark met Laura on a blind date, and they quickly fell in love. Their combined family includes seven exceptional children: Jessica, Zachary, Demitria, Alexios, Jackson, Tatum, and Mattison. The family wouldn't be complete without Nikko, the family dog, who is always by Mark's side.
Family is everything to Mark and Laura. They are working hard to prepare the winery for the next generation of Neals to carry on the legacy that started with Mark's parents decades ago in Napa.
"I'm simply tending the vines for the next generation."